GREATER EGYPTIAN CONFERENCE
GEC looks tough to call
NCOE, Crab Orchard, Carrier Mills, look strong; Hardin County could surprise
Projected Order Of Finish
1. NORRIS CITY-OMAHA-ENFIELD, 2. CRAB ORCHARD, 3. CARRIER MILLS,
4. HARDIN COUNTY, 5. GALLATIN COUNTY, 6. POPE COUNTY.
7. GALATIA, 8. THOMPSONVILLE.
BY JACK BULLOCK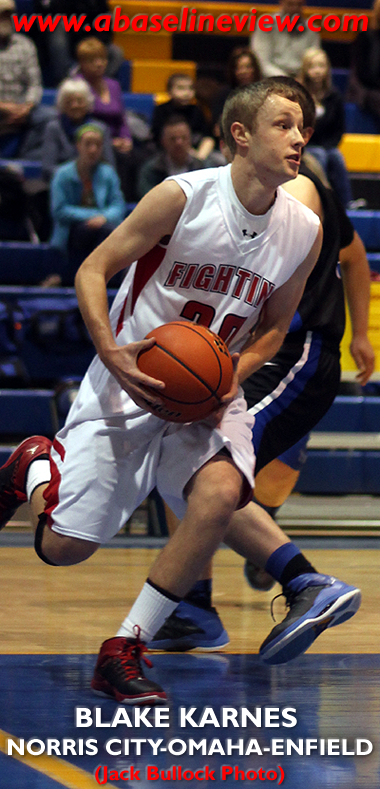 The Greater Egyptian Conference has had a very nice run with its top teams doing quite well since four-class basketball hit home in 2007-08.
In fact since that time at least one team from the GEC captured regional titles in boy's basketball in each of the seven seasons of the split.
Granted that some of the regionals consisted all GEC teams, but still some of those teams have went on to bigger things.
Gallatin County, for instance, made it all the way to SIU Arena in 2013, only to lose a devastating overtime game against Nokomis.
In 2009, Coach Mark Motsinger had his Carrier Mills Wildcats in position to get to SIU, losing a close game to Okawville at the Trico 1A Sectional final. CM repeated as regional champs the following year and then lost a close game to eventual state runner up Sesser-Valier at the Eldorado 1A Sectional.
Crab Orchard has won three regional titles (2011, 2012 and 2014) in that run and made it to the Gallatin County 1A Sectional title game before losing to then number one ranked Mounds Meridian.
Speaking of the Hawk, Gallatin County won three-consecutive regional titles from 2011-13.
So the success level in 1A, at least at the top of the standings in this conference, has nothing to hang their heads about in competing against the cream of the crop in Deep Southern Illinois.
Fast forwarding to 2014-15, it is going to be another competitive season in the southeastern corner of this state.
Last season ABV went out on a limb and touted Norris City-Omaha-Enfield as the favorites and this projection nearly came about.
The Fighting Cardinals never quite put together any extended winning streaks and finished second to Crab Orchard in the league race.
Those Trojans and head coach Jon Brown have have a great run in this league in recent years and this club will continue to battle.
A very familiar coach from this league will take over at Gallatin County as Doug Miller replaces Robert "Radar" Patton as the general of the Hawks program after having served as an assistant the last few years at the school.
Miller has head coaching stints at Thompsonville and NCOE so he is a staple in this gathering of small schools.
Hardin County and head coach Rodney Lane have built a quality small school program in the "Cougarland" and his success has been like most others around the South. Lots of time spent with the kids and hard work.
Thompsonville has a new head coach in Pete Gordon and he inherits a team with deep graduation loses.
Pope County head coach Jim Simmons and his kids continue to work hard in Golconda.
Galatia and mentor Kendall Hankins continue to hang tough against the programs ahead of them in the recent standings.
Denny Anderton takes over a program at Carrier Mills that was led by a 600-win head coach that was let go controversially last spring.
As for this season, it looks wide-open at the top end.


1. NORRIS CITY-OMAHA-ENFIELD
Head coach Bryon Graven saw his club be inconsistent in 2013-14 and that kept his club off a lot of the radars in southern Illinois rankings.
The Fighting Cardinals ended up at 15-11 on the season but 8-2 in the GEC which was good enough for second place behind champion Crab Orchard.
NCOE lost four seniors to graduation, including two of the top scorers for the team.
Dakota Wheeler (9.4 p.p.g., 7.7 r.p.g.) and Cole Tucker (7.4 p.p.g.) are missing from the Cards' club that lost to Carrier Mills at the Hardin County 1A Regional opener last February.
Jacob Taylor and Tyler Lamb are also gone from the team from last year's graduation.
The ones back are good ones, led by Chase Sutton, a 6-foot junior guard and 6-foot senior guard Blake Karnes.
Sutton was the only double-digit scorer for Coach Graven last season at 12.4 points a contest.
Karnes was at 9.2 points a game for NCOE.
Six-foot-three senior Kyle Sell tossed in four points a game for the club while being second on the team in rebounding last season at 3.6 boards.
Add the names Nate Glad, Tyler Scroggins, Dakota Bond, Jacob Delap and Brantley Neal to the possibles for the other two starting spots.
Glad is a 6-foot-3 senior while Delap adds more size to the roster at 6-foot-4 and a junior.
Scroggins is a 6-foot senior and Bond is a 5-foot-10 junior.
All should see a lot of minutes, especially early in the season when the Fighting Cardinals head to Grayville to open the season at the annual Thanksgiving Tournament. This season they will be trying to defend their title from last November.
"I believe every player on our team will play an important role this season. Our seniors are going to have to really step up to fill our leadership roles. We are going to have the luxury of depth this year, with our returners and some younger players developing their game over the summer," said Coach Graven, an Auburn High School grad and all-state selection in 2003 "Our WE>ME mentality has started to become contagious within our program, and we are starting to see evidence to prove that. We are hoping to build off the foundation of a program that is starting to take off. We are looking forward to an exciting year of basketball."
OUTLOOK -This coach has strengthened the schedule as much as he can and the program seems headed in the right direction. This group should be in the race for this conference championship and, depending on where they get placed, a regional title. Having good guards with experience is a plus and this team has them.


2. CRAB ORCHARD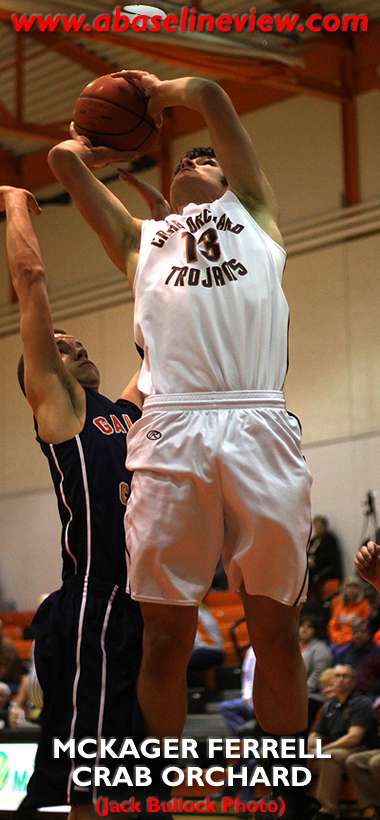 ABV doubts there has ever been a high school basketball player that was offensive minded that wouldn't like to play for Coach Jon Brown.
This mentor likes to see the shots fly into the air and in the recent past this coach has seen his kids be very proficient on offense.
The Trojans went 26-6 last season, 7-0 in the regular season GEC and won another regional crown. They took Cairo to the final minutes before losing at the NCOE Sectional.
Coach Brown saw one of the top scorers in the South depart as Caleb Perry left the building after averaging 25.3 points a game.
This 5-foot-10 all-around player was first team ABV last spring.
His 811 points and 32 percent 3-point shooting were standout numbers for a very good varsity career.
Two other senior starters (Tyler Deaton and Josh Emery) are missing from a team that won the regular season GEC crown and was runner up in the league tournament.
Other highlights include winning their own Thanksgiving event and finishing second at the Wayne City Holiday Tournament.
Two returning starters are 6-foot-1 senior Gunnar Galloway and 6-foot-2 sophomore McKager Ferrell.
Galloway is over 900-points for his career and it shouldn't take him long to reach 1,000.
This senior forward averaged 14.5 points and 7.1 rebounds a game for the Trojans as a junior.
Look for those numbers to expand in 2014-15.
Ferrell showed a lot of skill as a freshman last season (7.6 p.p.g., 6.8 r.p.g.) as he learned on the fly in varsity air-space.
Those two will be tough to deal with in the lane at both ends of the floor.
The backcourt will be new but this coach knows how to coach perimeter players.
Most over the years have had the green light from beyond the arc and this year should be no different then any in the past.
Lane Hutson, a 5-foot-9 junior guard, got into 28 varsity contests as a sophomore (2.3 p.p.g.) while 5-foot-10 senior forward Travis Tarlton (1.5 p.p.g.) got into 20-games.
Senior forward Jon Stephens is a 5-foot-11 forward while 6-foot-3 sophomore Amos Beasley should add some additional size to the line up should Coach Brown decide to "beef up" the middle.
"Galloway has worked hard during the off season to add strength in an attempt to fare better against physical opponents. Ferrell will once again be looked to for a physical presence near the basket," said Coach Brown, a former ABV 1A "Coach of the Year" (2012) and winner of over 300-games in his coaching career. "Hutson and Tarlton will be looked upon for perimeter defense. Beasley is a much improved player and should add toughness inside."
OUTLOOK – It seems to ABV that this program always seems to have kids that will work hard and be able to play this game the way the coach wants. The Trojans have always been a team that will "shoot first and ask questions later." If the shots are falling, which they have for this program for a long time, the Trojans shouldn't be counted out. With an inside game to help set up the long range bombs, it will be another enjoyable season for this fan base to take in this winter.


3. CARRIER MILLS
The consensus around the league is that the Wildcats are the ones to beat in the GEC this season and it is hard to argue this poll.
With a new coach in place, CM will try to improve on a 10-18 mark that wasn't quite up to the previous seasons at this school.
As a result there is a new head coach running things as Denny Anderton takes over for a team that has nearly all of the kids back that took the defeats in 2013-14.
Darren Betz, a 6-foot senior guard, is back as is 5-foot-10 senior Slayden Figg.
Six-foot seniors Loren Whiting and Jonah Crowder return as well as 5-foot-7 senior Anthony Kalodner and 5-foot-9 senior Jordan Mitchell.
Anderton, a Carmi native who has coached at many different levels, has over 30-years experience in coaching basketball.
"I will put our non conference schedule against any school our size," said Anderton. "I just want us to get better every time we step on the floor."
OUTLOOK – Having a group of battle-tested seniors to start with is a huge advantage over most small schools. It remains to be seen how they fair to begin the year as they are playing in the tough Vienna Tournament to begin the season, an event that features powers Meridian, Massac County and what looks like an improved Vienna squad. One thing about veteran teams. You can leave the excuses at the door when you walk onto the court.


4. HARDIN COUNTY
The Cougars should be right in this race to the top of the standings with the players returning for Coach Lane.
Hardin County has had some recent success and the Cougars nearly crawled over the .500 mark at the end but finished at 13-15 overall, 3-7 in the GEC as they fell to Thompsonville at the Hardin County 1A Regional.
Returning for the Cougars is B.J. Austin, who seems like he has been playing for Hardin County since birth.
Thius 6-foot-1 senior is a four-year varsity player and had one of the top scoring averages in the South at 18.6 points a night. He also ruled the boards for HC with 6.5 rebounds a contest.
He has 901 career points and with another good beginning he should surpass 1,000 before Christmas.
Look for Logan Conn, a 5-foot-10 senior guard to also step it up a notch. Look for this senior vet to add to his five points a night he provided as a junior.
Five-foot-eleven senior Tanner Dutton pitched in 5.2 points and with three rebounds.
In this league and with their non-league schedule some size in the lane will help out and this mentor has Austin Marler, a 6-foot-3 sophomore, who this coach believes will give the Cougars some inside strength.
Coach Lane talked about three other sophomores to take note of.
Tyler Winters is a 5-foot-9 guard who added 5.3 p.p.g. in limited duty while showing improvement. According to Coach Lane, his improvement on the defensive end will help out the club in the backcourt.
Austin Seavers is a 6-foot-1 sophomore forward who added 4.6 points and 4.2 rebounds.
Lane believes this one could step up for a big season.
Look for 5-foot-9 sophomore Cameron Shaw to get more minutes this season for the Cougars while a pair of seniors could be in the mix.
Five-foot-ten senior Darrien Robinson and 5-foot-8 senior Colton Winters should help out.
Robinson sat out his junior year while Winters played a lot of JV minutes.
Hardin County should also have help coming from juniors Taze Paskon and John Rose.
Paskon is a 6-foot-2 frontcourt players while Rose could help out in the backcourt.
The JV squad went 14-1 according to this coach so the talent is there for a step forward at the varsity level.
"These seniors have logged a lot of varsity min the last couple of years, and gained a lot of experience. The sophomore class gave us a big push the second half of the season and will play a huge role in the success of this team," said Coach Lane, a native son of this county and heading into his fifth season at the helm. "We have good competition in practice and a lot of spots open for grabs. This is probably the best overall talent I have put on the court in my four years I have been at Hardin County. We should be fairly deep and have some guys that can score the ball. With Austin getting to 1,000-points very early in this season and some sophomores who put up a lot of points toward the end of last season, this group has potential to play well. With good senior leadership and some young talent this could be the cougars best season in a while!!"
OUTLOOK – The Cougars are "the sleeper" team here in the GEC. Depth is the key and the younger kids have won some games at the lower levels. Austin is one of the top players in the conference and HC appears to have some size to match up with the schedule. Five games in the first week of the season for Hardin County at the Crab Orchard Thanksgiving Tournament will be a good barometer of how well this team could fare in 2014-15.


5. GALLATIN COUNTY
Coach Doug Miller gets control of the program and he will have talent to work with as he tries to build upon the recent success of his predecessor.
The Hawks, picked by ABV to finish fifth last season, end up third behind Crab Orchard and NCOE.
GC went 23-6 nd 5-2 in the league.
They played very well at times and beat some good teams.
They upended Crab Orchard to win the GEC Tournament and gave the Trojans a scare in the regional title game a few weeks later.
This season the Hawks will be missing 4/5ths of the teams points from a season ago
Five seniors are gone; Mitchell Ramsey, Jared Jackson, Zach McGuire, Austin Russell and Marcus Wargel who will need to be replaced.
Coach Miller will turn to two returning players, one of whom was a double-digit contributor in points a year ago.
Seth Ramsey, a 5-foot-11 sophomore, produced 12.4 points a game as a freshman in 2013-14.
One other player; 6-foot-1 senior Chandler Scates, added 5.1 points a game for the Hawks.
From the understudies, look for seniors Hank Oldham, a 5-foot-7 senior, 6-foot-1 senior Tyler Oldham, and junior Patrick Clark should start while 5-foot-8 Thomas York to have a shot at playing time. Senior Brody Watts will also come off the bench.
"I have big shoes to fill after the job Radar (Coach Patton) has done the last four years here. We were 50-10 the last two seasons," said Coach Miller, a McLeansboro native and long time GEC coach. "We know we have to work extremely hard and teach a lot of basketball in not a lot of time when practice begins. Gallatin County is a great place to be and a great school to work for. This has been a great move for me. Our goals for this season is to get better every day and to have fun along the way."
OUTLOOK – The Hawks program is in good hands with Coach Miller and he will build around his two returning players with experience. The jobs for the other three starting slots appear to be up for grabs.


6. POPE COUNTY
The Pirates went 2-24 last season and didn't register a conference win while bowing out quickly in the Hardin County 1A Regional to Gallatin County.
Coach Jim Simmons lost some seniors last year to graduation (Xavier Bramlett and J. D. Ward) but there are some kids returning with experience.
But there are three starters returning for this coach as they head forward.
Douglass Ferguson, a 6-foot-3 center, is a senior and experienced for the Pirates.
Zach Fasolo, a 5-foot-10 junior, also returns as does junior guard Cody Harris, who is a 6-foot guard.
The rest of the roster looks to be mostly underclassmen who are untested.
Jabrayle Lumpkin, a 6-foot-2 senior, played some varsity last season as did 5-foot-11 sophomore Dylan Worthen.
The rest will be up to Coach Simmons, who is 31-53 in his stint at Pope County.
OUTLOOK – The Pirates look to be in the same sort of spot they were a year ago. Play hard, play the game right and see what happens. Single-digit wins and some fun in Golconda is the likely outcome for 2014-15.


7. GALATIA
The Bearcats and head coach Kendall Hankins managed a respectable 9-17 mark last season, which was the most wins for this coach in his four years at the controls.
Galatia finished 2-5 in the league and lost to Gallatin County in the first game at Hardin County in the regional.
The bad news is that six seniors graduated. Five of which started nearly all the games.
However Coach Hankins has some kids returning that saw action under the lights.
Austin Stricklin, a 6-foot-1 junior, was part of the rotation a season ago, as was Luke Lawrence and Sean Mondino.
Lawrence is a 5-foot-11 sophomore while Mondino is a 6-foot-1 soph.
Six-foot-one junior Hayden Mitchell is also part of the preseason plan as is three other sophomores; Kody Mathews, Devon Verbech and Ethan Patterson.
Mathews is a 5-foot-7 guard while Verbech is a 5-foot-6 guard.
Patterson is a 5-foot-11 forward.
Those were the kids likely to get the bulk of the early season minutes.
"This will be a rebuilding year for us, but we have been looking forward to this point in the program since my tenure started," said Coach Hankins. "The young guys are very exciting to watch and play tough. They play real well as a team and will be tough to guard as on any night any two or three of them can score and score big."
OUTLOOK – This coach seems excited about this season and ABV hopes his kids respond the the excitement level. Hard work never hurt any team and this group could pick up some quality wins along the way as they head toward a two-year plan with all of the kids mentioned being underclassmen.


8. THOMPSONVILLE
A new coach and no visible meaningful varsity minutes returning is the storyline of the 2014-15 edition of Tigers' basketball.
Seven seniors hogged a lot of the A-game minutes last winter and one guard transferred away to a different school, leaving a void in the middle of the program.
The good news is there are uniforms and minutes to be earned for Coach Pete Gordon, who is the latest of coaches at this school, as this program will now have its third coach in as many seasons.
Coach Gordon will have virtually no contributors to last seasons' 13-15 team that lost to Crab Orchard in the Hardin County Regional semifinals.
According to this coach, he has five seniors who are ready to accept the challenge of rebuilding from scratch.
Five-foot-ten William Costello, 6-foot-2 Jaret Murphy, 6-foot-1 Kyle Shimkus, 6-foot-3 Hudson Garrison and 6-foot-1 Coy Harmon are in the race for some PT.
Six-foot-four junior Jessie Darnell is the only junior on the club.
The sophomore contingent features Cory Wilce; a 5-10 guard, and 6-foot Jared Payne.
Four freshman, according to Gordon, will also get a preseason look.
Five-foot-ten Zack Kirkman; 6-foot-1 Trenton Cardwell, 5-foot-10 Hunter Woodring and 5-foot-11 Nick Scro.
Another freshman, 6-foot-4 Jacob Dixon, will give the Tigers some size if all goes well.
"The program graduated seven seniors and all of those seniors played the majority of the minutes last season. We are returning zero varsity experience," said Coach Gordon. "Thompsonville only has 33 male students in the entire high school. Three of the 13 players have not played High School Basketball before. If our kids will buy into playing hard, and develop a passion for playing and practicing basketball, we will have fun together this year. I do think that the conference will have some parity night in and night out. I really don't know how things will play out. We will have to play hard to find success."
OUTLOOK – The Tigers will have a rough go of it early but they should be okay by the end of season. What the coach said is true about playing hard. There are some potential wins on the schedule if the effort is there.